Vaccinating Japan: CMIC's efforts to ensure safety and the hope for normalcy
Japan has spent the last year and a half battling COVID-19. With that, comes a shortage of medical care and supplies as well as having to completely change day to day lifestyle. Although Japan is still in a state of emergency, we are given the hope to return to normalcy and slow down the great toll this pandemic has already taken.
As vaccines were becoming available in Japan in 2021, the Japanese government asked all municipalities to prepare and construct vaccination systems. This request required municipalities to act swiftly to solve challenges such as securing personnel for operations, notifying individual residents (sending medical questionnaires and vaccination coupons), holding consultations on vaccination procedures, and managing post-vaccination health data.
At CMIC Group, we prioritize the health and well-being of our employees and their families, customers, patients and all others that we support throughout the industry in Japan, Asia regions and US market. We have taken several steps to mitigate risk while maintaining our business operations.
CMIC Group has dedicated and prioritized all efforts in accelerating the vaccination distribution throughout Japan. Since February of 2021, CMIC has partnered with over 20 different municipalities all around Japan to assist in the vaccination distribution and execution.
CMIC Group already has year of experience supporting clinical trials and clinical trial facilities in pharmaceutical development. We are using this experience as a basis for comprehensively supporting the construction of a vaccination system. This support provides information communication, testing, development support, and vaccination support including working with local governments, vaccine rollout, and information management.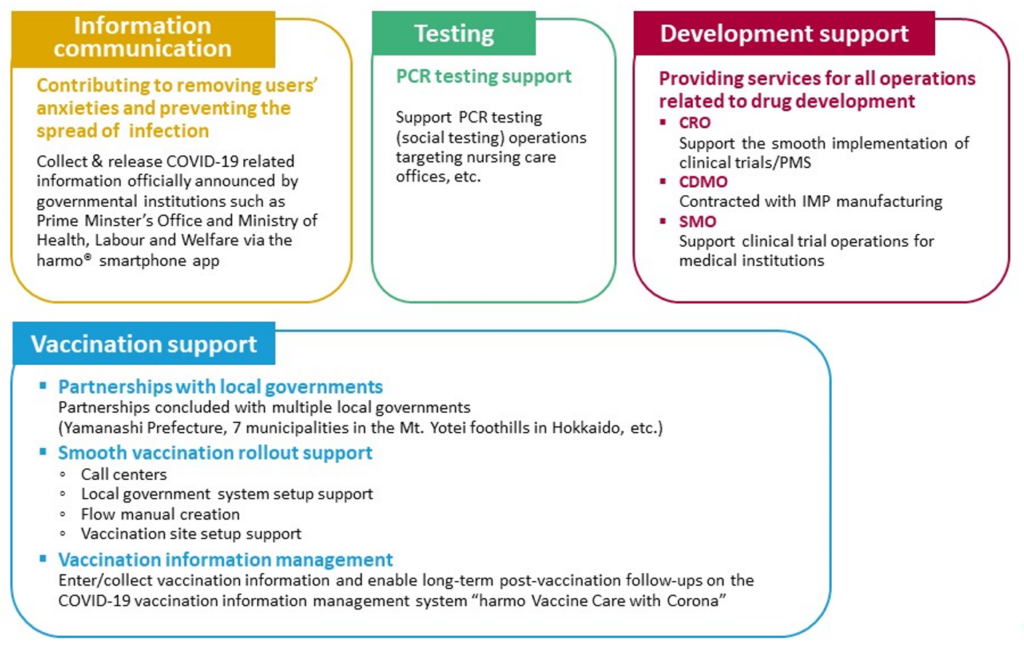 In implementing these services, CMIC Group will also provide post-vaccination and long-term follow-up support with a vaccination management tool using an original digital information management system of the CMIC Group. The introduction of this system will enable cloud-based management of data such as the type of vaccine received (including the product lot) and the date of vaccination for each person who is vaccinated. CMIC developed a system "harmo vaccine care with corona" for COVID-19 vaccination by modifying the original system "harmo vaccine care" which was developed for pediatric vaccination. "harmo vaccine care with corona" enables to 1) record the vaccination information, 2) alert when the 2nd dose visit is earlier than the appropriate interval to avoid errors, and 3) track/follow-up long term as necessary. The CMIC Group is committed to constructing a COVID-19 vaccination system to contribute to a smooth vaccination rollout.
Japan is nearing an inoculation rate where other countries have started to hit a wall, supply bottlenecks could slow deliveries and the drive could start to meet more resistance from young people who have less fears of the virus. One of the best ways to prevent this bottleneck is to encourage friends and family to pursue a vaccination when/if available to them.
To learn more on vaccination success and challenges throughout Japan, please explore some of our other resources:
New corona vaccination information management system "harmo vaccine care with corona"
harmo vaccine care with corona case study
CMIC Enters into a Partnership Agreement on COVID-19 Vaccination with 7 more Municipalities in Japan
Yamanashi Prefecture and CMIC forms partnership, to establish a system to facilitate mass vaccination against COVID-19
CMIC and Hokuto City Signed a Partnership Agreement to Improve Community Health Beyond COVID-19
CEO Interview: Considering the Pathology of Japanese Society and a Prescription Amidst the COVID-19 Pandemic
[Webinar] Contingency Planning for the Pharmaceutical Industry: Lessons Learned from COVID-19 and Other Disasters
Decentralized Trials in Japan – How COVID-19 has accelerated a previously underutilized practice
C-CAST: Virtual Clinical Trials in Japan – Under COVID-19 pandemic –
Notice regarding the start of sales of antibody test kit for COVID‐19 research: "Novel coronavirus (SARS-CoV-2) IgG/IgM Antibody Test"