Clinical Trial Support Services
CMIC Group started the first Site Management Organization (SMO) operation in Japan and has provided total administrative and practical support that ranges from the development of implementation systems for clinical research to execution and operation, taking advantage of extensive experience as the pioneer of the industry and advanced expertise. Further developing new business in the healthcare arena taking advantage of the strengths of business alliance with medical institutions.
Our SMO services that help keep patients engaged and participating in our clients' clinical trials, while also streamlining the intake and retention of patients for clinical sites. We provide our clients with tailored services to reach the right population.
Our Edge in Site and Patient Support
Broad medical institution coverage and collaboration
We have business alliances with around 2,630 medical institutions throughout Japan, working with large scale hospitals to clinics. We can refer clinical trial sponsors to high-potential candidate sites.
Extensive experience in wide range of therapeutic areas
We are involved in more than half of new drug developments in Japan, supporting 1,855 protocols with wide range of therapeutic areas in the last 5 years.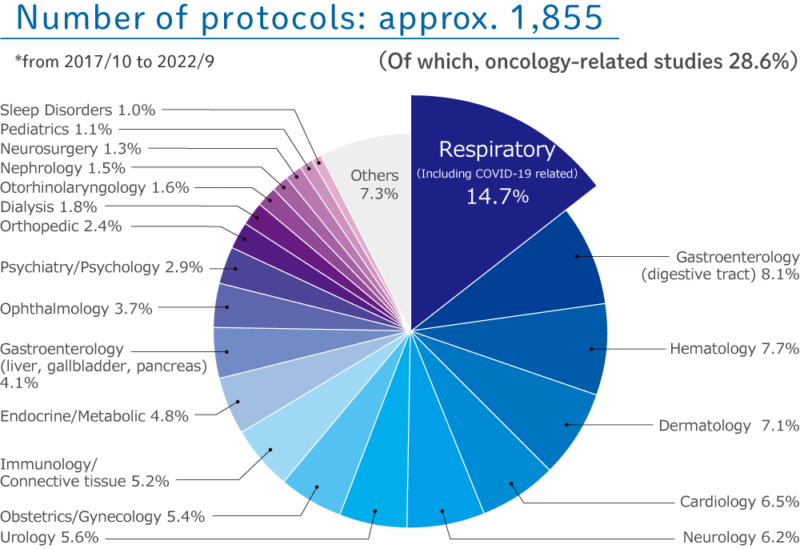 Clinical Research Coordinators (CRC) specialized in therapeutic area
Our CRCs have expertise in various therapeutic areas and use knowledge and experience in supporting clinical trials to improve quality of clinical trials and reduce workload of clinical trial operation.