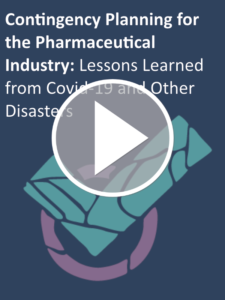 Watch Now
[Webinar] Contingency Planning for the Pharmaceutical Industry: Lessons Learned from COVID-19 and Other Disasters
The COVID-19 global pandemic took the world by storm, disrupting several industries and our global supply chains. Although this may be one of the larger scale challenges that has affected our industry, it is not the only one. The Mad Cow epidemic in the 1990s, the Iceland volcanic eruption in 2010, the earthquake and tsunami in Japan in 2011, super storm Sandy in 2012, and the 2017 warehouse explosion in Tianjin are some examples of uncontrollable circumstances impacting our industry.
When these disruptions occurred, were you reactive or proactive? Having a contingency plan gives a company a competitive edge. Proactive planning to prevent business disruption may be the best investment a company can make.
Lessons learned from COVID-19 and other large-scale disasters that have affected the pharmaceutical industry
How to avoid business disruption
Proactive manufacturing, supply chain, and regulatory strategies to reduce disruption, downtime and profit loss
Speaker
Regina Wachenheim
Director of Quality
CMIC CMO USA
Regina Wachenheim is the Director of Quality for CMIC CMO USA. She has 19 years of quality experience in the areas of pharmaceutical, medical device, raw material, nutraceutical, and OTC manufacturing. She has extensive experience helping companies with 483 and Warning Letter remediation. Regina holds two bachelors and three master's degrees in various areas of science and is currently completing her Ph.D. in Forensic Psychology, Crisis Leadership and Management. She is studying for the RAC exam, which she will take later this year. Regina has also taught graduate chemistry courses as an adjunct professor. She has a passion for risk management and mitigation planning.