Decentralized Trials in Japan – How COVID-19 has accelerated a previously underutilized practice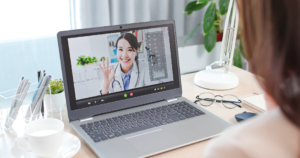 Clinical drug development is a costly process that takes 10 years to complete, on average. The cost of developing a new drug is about 2.6 billion USD with over 65% of that being dedicated to the clinical testing phase.
Decentralized Trials, also referred to as Virtual Clinical Trials, is a method that leverages modern digital technology for the benefit of the patients and overall progression of drug development.
The influence of COVID-19 is felt in every industry. For the Pharmaceutical industry, clinical trials came to a standstill worldwide. The previously practiced approach of having patients travel to clinical sites for their trials have always been a burden for patients. Prior to the first wave of COVID-19, the implementation of virtual clinical trials was always the subject of vigorous discussion following the 2018 "Guidelines for Proper Implementation of Online Consultations". In March 2020, the FDA announced new guidance encouraging clinical trials to be "decentralized"1 in order to prevent a research bottleneck while getting drugs to market.
Benefits decentralizing clinical trials:
Rapid recruitment of subjects and improving subject participation in clinical trials and reduction in costs
Decrease in missing data by improving subject retention, shorter trial duration, continuous real time data collection rather than periodic, allowing for more data points, faster generation, and cost effective studies for sponsors
Improved control, convenience, and comfort for subjects through collaborative efforts using house visits and nearby medical facilities
Increase in diversity of subject populations
Ability to reflect actual usage aftermarket release through at-home administration of trial drugs
Challenges in Japan
Japan is currently facing its own challenges while trying to adopt this trend. Based on a survey completed by MICIN, nearly 90% of physicians who provided online consultations did so over the telephone rather than through video conference calls. While usage of the Internet by individuals was approximately 90% in 2019 and the household penetration rate of smartphones was 80%, usage of the Internet among those aged 65 years or older was approximately 70%, which is lower than that of younger persons2. Even though online consultation possible, there is only limited familiarity with online consultation services among medical facilities and patients, and it is estimated that the value of online consultation has not been sufficiently promoted.
In a survey conducted by CMIC Group, the most common response to "challenges anticipated to implementation" was cost of establishing/using the system followed by the burden imposed on medical facilities or subjects accompanying implementation, usability under current regulations, and need for data management due to online consultation.
Other challenges mentioned included guaranteeing correct identification, handling of personal information, cost/time of implementing the system, issues related to use of electronic devices by subjects, reliability of data handling and evaluation, issues related to consultation performed online, and use of satellite facilities or home-visiting nurses as challenges for medical facilities.
US-based Trials vs Japan-based Trials
Based on survey results by Medidata Solutions, over 40% of trials in the US have been changed to remote consultation rather than hospital visits; however, the Japanese clinical trials CMIC Group is involved in suggest that, while measures by the trial sponsor are being implemented such as use of remote monitoring, there are no cases where remote consultation for subjects was implemented by changing study protocols, and remote consultation is not widely used in clinical trials currently being performed in Japan.
How do we overcome these barriers? How can Virtual Clinical Trials be better adapted in Japan?
To learn more about CMIC's Virtual Clinical Trials program and our solutions, contact us today.
Related resources:
C-CAST: Virtual Clinical Trials in Japan – Under COVID-19 pandemic
[Webinar] Mastering the Virtual Clinical Trial
[White Paper] Evolving Trends of Decentralized Clinical Trials in Japan
1View FDA's March 202 Guidance, "Conduct of Clinical Trials of Medical Products During the COVD-19 Public Health Emergency" here
2Ministry of Internal Affairs and Communications, Information and Communications in Japan
Related Resources: