Self-Test Kit
SelCheck® is a screening device that allows individuals to self-check their disease risk easily and independently. By analyzing the collected samples, we aim to build healthcare solutions that contribute to the prevention and early detection of diseases that are difficult to detect. Learn about our SelCheck® services below.
Available Services (only in Japan)
■ PapearTM
CMIC Group provides the Japanese public with SelCheck cervical cancer screening device,  Papear, an HPV test that patients can use at home to self-collect samples themselves. Individual patients then mail their samples to the CMIC Group lab. Test results are available via website: with results reported as either positive, negative or cannot be measured. If there is a positive result, patients are informed if a high-risk type, such as HPV-16 or HPV-18, or another type has been detected.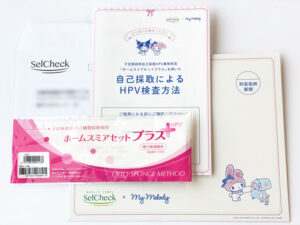 ■ RenatestTM
Renatest is a kit that can detect L-type fatty acid-binding protein (L-FABP) in urine by self-collection of urine samples. L-FABP is known as an indicator of the aggravation risk of chronic kidney disease (CKD). Among the indicators related to CKD, many academic papers have been reported globally that L-FABP can detect the risk of diabetic kidney diseases, caused by the progression of diabetes, at an early stage.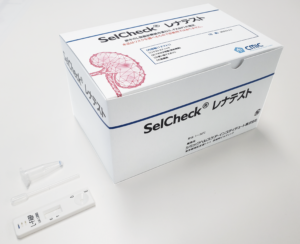 Upcoming SelCheck Services:
Sleep Disorders
Mental State