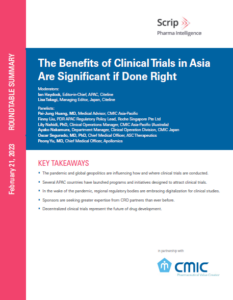 Download
The Benefits of Clinical Trials in Asia Are Significant if Done Right
Fallout from the COVID-19 pandemic, global unrest, and more are increasingly making Asia an attractive spot for conducting clinical trials. But navigating the regulations of clinical trials in Asia can be complicated. Learn more about what it takes to succeed.
Access the results of a recent roundtable, during which experts discussed the complexities associated with conducting clinical trials in Asia and shared best practices to increase the likelihood of success.
You will learn:
How the pandemic and global geopolitics are influencing how and where clinical trials are conducted.
Which APAC countries have launched programs and initiatives designed to attract clinical trials.
How regional regulatory bodies are embracing digitalization for clinical studies.
How a sponsor and experienced CRO can build a strategic partnership.
What the future of drug development clinical trials will hold.
Moderators:
Ian Haydock, Editor-in-Chief, APAC, Citeline
Lisa Takagi, Managing Editor, Japan, Citeline
Panelists:
Pai-Jung Huang, MD, Medical Advisor, CMIC Asia-Pacific
Finny Liu, PDR APAC Regulatory Policy Lead, Roche Singapore Pte Ltd
Lily Nahidi, PhD, Clinical Operations Manager, CMIC Asia-Pacific (Australia)
Ayako Nakamura, Department Manager, Clinical Operation Division, CMIC Japan
Oscar Segurado, MD, PhD, Chief Medical Officer, ASC Therapeutics
Peony Yu, MD, Chief Medical Officer, Apollomics
Follow CMIC on LinkedIn for the latest updates and resources!