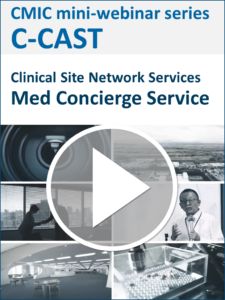 Watch now
C-CAST: Med Concierge Service
C-CAST is a mini-video series presented by CMIC Group. As the pioneer and leading CRO in Japan, we provide you with short and useful videos about pharmaceutical and healthcare industry, including educational contents, leader & expert interviews, and more. Watch the video and learn about the market/industry trend, latest regulatory information, and new technologies for your product development in the U.S., Japan, and broader Asia.
Our Med Concierge Service, clinical site network service, supports our clients' understanding of healthcare needs which exist at clinical sites.
Using our experience as a leading Site Management Organization (SMO) company, CMIC group provides site coverage of around 2,600 medical institutions, with medical concierge support in most major cities throughout Japan.
Learn more here: Clinical Site Network Services