―Timely delivery of high-performance antibody test to medical institutions―
TOKYO, April 24, 2020 ―CMIC HealthCare Institute Co.,Ltd.(Head Office: Tokyo, Minato-ku, Representative Director, President and CEO, Akihisa Mitake, hereafter "CHI")announced to sell an antibody test kit for the research of the new coronavirus (SARS-CoV-2) starting on May 7 2020 to the medical institutions nationwide in Japan.
The new coronavirus disease (COVID-19) has become a global pandemic, and there is a rising need in Japan for further addressing the problem of nosocomial infections and implementing systematic screening measures.
To help protect the healthcare professionals, implement systematic screening measures, and prevent an infection overshoot of COVID-19, CHI will sell a highly sensitive test kit that can detect the presence of antibodies against the new coronavirus (SARS-CoV-2) in a short period of time.  The kit will be sold to medical institutions including CHI's partner hospitals, and provided as part of the SelCheck and Medical Concierge services currently provided by CHI.
The test kit has already been marketed worldwide, including North America, and is now in the stage of obtaining the EUA (Emergency Use Authority) approval by US FDA. CHI has the exclusive marketing right for Japan.
We are currently undergoing preparation to import the kits and start accepting orders on May 7 2020.
Unique features of the new coronavirus (SARS-CoV-2) IgG/IgM Antibody Test
The kit can obtain the test results with high accuracy and speed by using the unique technology called "DRIVEN-FLOW® TECHNOLOGY", utilizing the knowledge and experience cultivated by the manufacturer (ALFA SCIENTIFIC DESIGNS, USA). It is not categorized as in vitro diagnostic (IVD) products.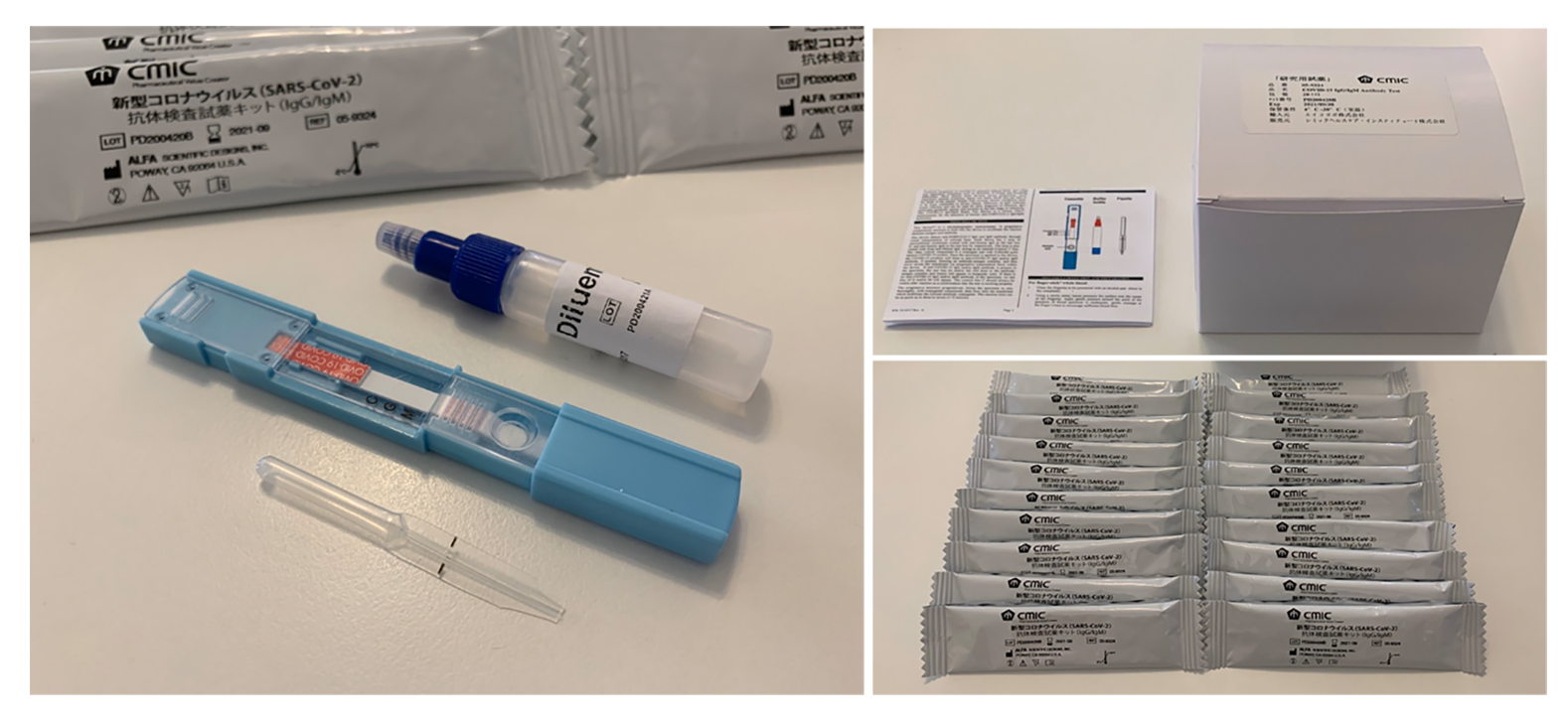 ■Self-Test Kit Business(SelCheck)
SelCheck is CHI's unique and proprietary business model that allows individuals to self-check their disease risk easily. By analyzing the acquired data, we aim to build healthcare solutions that contribute to the prevention and early detection of diseases that are difficult to detect.
https://en.cmicgroup.com/solutions/selcheck/
■Medical Concierge Service
Using our extensive experience as a leading Site Management Organization (SMO) company, CHI provides "Medical Concierge Service" providing a wide range of services that connect pharmaceutical companies, medical sites, and patients.
https://en.cmicgroup.com/solutions/consulting-services/clinical-site-network-services/
---
■About CMIC HealthCare Institute Co., Ltd.
CMIC HealthCare Institute Co., Ltd. has integrated Site Support Institute Co., Ltd., a leading SMO, and CMIC Healthcare Co., Ltd., providing healthcare information services, on January 1, 2020. CHI anticipates the consolidation of various information and know-how accumulated at SSI via its SMO business, as well as the disease prevention, health information and IT technology developed by CMIC Healthcare, which leads further acceleration in CMIC Group's healthcare business.
Please visit our website (Japanese):  https://www.cmic-hci.com/
■About CMIC Group
CMIC Group was founded in 1992 as the first Contract Research Organization (CRO) in Japan. Today CMIC Group is the largest clinical CRO in Japan with global footprint, providing comprehensive services in drug development, clinical site management, clinical to commercial GMP manufacturing, regulatory consulting and contract sales & marketing solutions. We can help pharmaceutical, biotech and medical device companies to enter Japan market, to conduct clinical trials in Asia, or to bridge drug development and manufacturing needs in the US, Europe, Japan and broader Asia. CMIC Group has over 7,000 employees and 25 sites globally.
For more information about CMIC Group and services, please click here
【Contact us】
CMIC HOLDINGS Co., LTD. PR group E-mail: pr@cmic.co.jp
【Inquiry about the product】
CMIC HealthCare Institute Co., Ltd.
Self-check Lab
TEL:Call Center 0120-820-025 (Japanese Only)
※The Call Center will open on Monday, April 27 at 13:00 in Japan time
E-mail: selcheck.support@cmicgroup.com