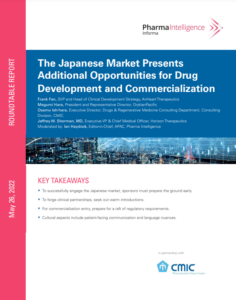 Download
The Japanese Market Presents Additional Opportunities for Drug Development and Commercialization
Japan represents an attractive and largely untapped market for each stage in the drug development and commercialization process. However, navigating the country's clinical, regulatory, and cultural environment can be a challenging endeavor for small and mid-size foreign pharma sponsors. Aware of these difficulties, the country's regulatory bodies have worked in recent years to ease market barriers and streamline approval processes to create a more accommodating environment. Nonetheless, hurdles remain.
Market experts recently met to discuss the opportunities – as well as the challenges – for pharma in Japan. For a window into their unique insights, download "The Japanese Market Presents Additional Opportunities for Drug Development and Commercialization".
This illuminating roundtable report from Pharma Intelligence, presented in partnership with CMIC, explores:
The critical keys to creating a successful plan
An important factor in fostering successful Japanese business relationships
Essential regulatory considerations for commercialization
Insights into cultural elements of communication
And more
Panelists Include:
Frank Fan, SVP and Head of Clinical Development Strategy, AnHeart Therapeutics
Megumi Hara, President and Representative Director, OrphanPacific
Osamu Ishihara, Executive Director, Drugs & Regenerative Medicine Consulting Department, Consulting Division, CMIC
Jeffrey W. Sherman, MD, Executive VP & Chief Medical Officer, Horizon Therapeutics
Moderator: Ian Haydock, Editor-in-Chief, APAC, Pharma Intelligence
Find out how to break into the Japanese R&D and commercial markets. Download now!