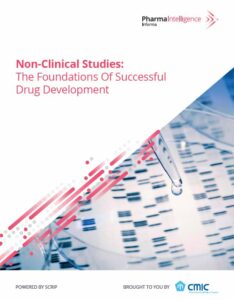 Download
Non-Clinical Studies: The Foundations Of Successful Drug Development
As pressures increase to get drugs to market faster, developers are realizing the importance of the non-clinical study as a critical part of the process. Failing early and eliminating non-viable products ultimately results in increased company commercial sustainability and improved patient safety.
Download your free article from CMIC Group, presented in partnership with Scrip, for your exclusive insights into mastering the challenges of non-clinical studies.
Learn more about how using the latest in advanced techniques and analysis methods can accurately project what a drug candidate's pharmacokinetic, efficacy, and safety profiles are likely to be in clinical trials.