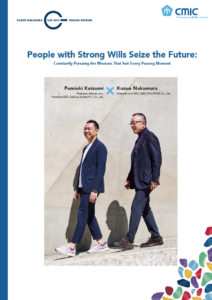 Download
CEO Interview
People with Strong Wills Seize the Future: Constantly Pursuing the Missions That Suit Every Passing Moment
Fumiaki Koizumi
President, Mercari, Inc.
President/CEO, Kashima Antlers F.C. Co., Ltd.
Kazuo Nakamura
Chairman and CEO
CMIC HOLDINGS, Co., Ltd.
Work styles are currently at a turning point, with the spread of remote working alongside other changes. We can see a significant challenge in aligning the direction of an organization's mission with its people's own satisfaction in life and self-expression. What are the vital qualities that organizations and individuals need to pursue? Fumiaki Koizumi has served as a leader in Japan's Internet business, with the social media service Mixi in the 2000s and the flea market app Mercari in the 2010s. CEO Nakamura listened to his story.
Please download the article to read this interview.