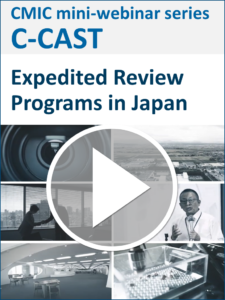 Watch now
C-CAST: Expedited Review Programs in Japan
C-CAST is a mini-video series presented by CMIC Group. As the pioneer and leading CRO in Japan, we provide you with short and useful videos about pharmaceutical and healthcare industry, including educational contents, leader & expert interviews, and more. Watch the video and learn about the market/industry trend, latest regulatory information, and new technologies for your product development in the U.S., Japan, and broader Asia.
There are several effective expedited review programs in Japan. In this session, our expert introduced the process, criteria, and incentives of the following two key programs based on our experience.
Orphan Drug Designation
SAKIGAKE Designation – corresponding to Breakthrough Therapy Designation by FDA & PRIME Designation by EMA –
Speaker:
Koji Shikinami
Senior Regulatory Consultant, Consulting Division,
CRO Business, CMIC Group
Learn more about our service/solutions here!