February 28, 2019
CMIC Healthcare Co., Ltd.
CMIC Healthcare Co., Ltd. (Head Office: Minato-ku, Tokyo, President & CEO: Shinnichi Keino, hereinafter referred to as "CMIC Healthcare") has recently commenced services for self-collect HPV test "SelCheck Cervical Cancer." CMIC Healthcare contributes to the early detection of cervical cancer by improving the rate of cervical cancer screening by providing this service as an option for gynecologic examinations and medical examinations to health insurance societies, companies, municipalities, and general consumers. CMIC Healthcare will sell it to companies and health insurance societies that promote health promotion and collaborative health care, and to general consumers through pharmacies.
"SelCheck Cervical Cancer" is a self-collect HPV test that an applicant collects and mails samples by themselves. Using a test kit that arrives at home, an applicant collects samples by themselves and then mail them to the CMIC Group lab. People can apply for the test and can check the results on the website. The test results are reported as either positive or negative or cannot be measured. If positive, the virus type (high-risk type 16 or 18, others) is also informed.
The benefit of this service is that the applicant can have an extensive follow-up. For those with a positive in the test, we provide a free nurse consultation service and a medical institution search service for a workup. The draft of revised cervical cancer screening guidelines of the National Cancer Research Center, published in 2018, recommend self-collect HPV test, while pointing out there is a challenge of creating a flow for having a workup for the people who are positive in the test. CMIC Healthcare also recognizes post-test follow-up as an important issue and provides sufficient support to enable people to actively seek medical care.
SelCheck Cervical Cancer has already been used by several health insurance societies and major pharmacies. Selling at pharmacies nationwide is scheduled to take place in April 2019. We will provide the service in our healthcare portal web site "HelC+" after 2020.
In the future, CMIC Healthcare plans to roll out its brand name "SelCheck" as a series of self-testing kits. It is applied to various diseases and signs, such as sleep disorder, mental illness, chronic kidney disease, and breast cancer, and contributes to early detection and prevention of severe diseases.
Website for application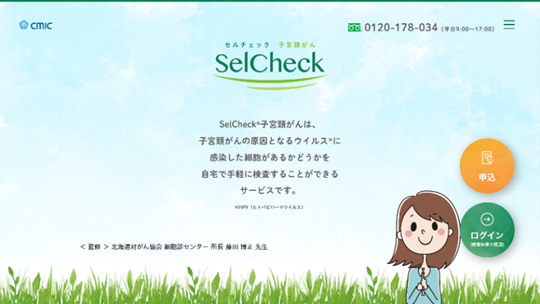 About Cervical Cancer
Cervical cancer is a cancer that begins in the cervix, the entrance to the uterus. Human papillomavirus (HPV) infection is associated with many causes. HPV is known to be transmitted by sexual intercourse, and HPV infection itself is not uncommon. Infections are often thought to be eliminated spontaneously. Persistent infection without eliminating HPV infection is thought to cause some premalignant lesions and cervical cancer.
About Cervical Cancer Screening
The rate of cervical cancer screening in Japan is 37.7%, which is lower than other countries (from OECD Health Data 2013). Despite the rapid increase in the incidence of cervical cancer in the 20s and 30s, the rate of visits in the 20s and 30s has not reached 22.2% and 40% (according to the Japanese Medical Association website), and remains low. Improving the rate of visits is required.