CMIC Group has acquired JIS Q 27001: 2014 (ISO / IEC 27001: 2013) certification, an international standard for information security management systems (ISMS) in the following departments.
CMIC collects information on various customers through the provision of business solutions, therefore we have been working to reduce security risks.
With the acquisition of this certification, CMIC will continue to strengthen information security and operate appropriately under the system established based on ISO/ IEC 27001, aiming to establish a stronger information management system.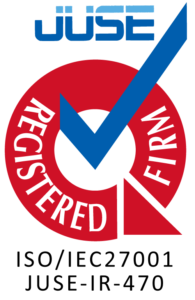 Certification Standard
JIS Q 27001:2014(ISO/IEC 27001:2013)
Registration Number
JUSE-IR-470
Certified Departments
ICT Department, CMIC HOLDINGS Co., Ltd.
Data Science Division, CMIC Co., Ltd.
Post Marketing Surveillance Promotion Division, CMIC Co., Ltd.
Certification Date
November 27, 2020