October 28, 2016
CMIC HOLDINGS Co., Ltd.
CMIC Co., Ltd., a consolidated subsidiary of CMIC HOLDINGS Co., Ltd., announced that the company won the "2016 Frost & Sullivan Japan CRO Company of the Year Award" prize at the Frost & Sullivan 2016 ASIA PACIFIC BEST PRACTICES AWARDS for the third straight year.
The awards have identified and honored best-in class companies that have demonstrated excellence in many industries or positioned as a leading company with competitiveness and customer base in the market.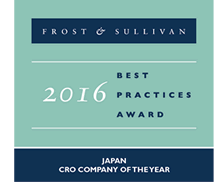 The Best Practices Awards by Frost & Sullivan, a growth partnership company focused on research and consulting globally, recognizes remarkable companies in each field such as healthcare, environment, energy, IT, and security in the Asia Pacific region which expects to expand the market in the future.
As the first CRO in Japan, the company has continuously provided services to reinforce the foundations of clients' businesses. Frost & Sullivan recognizes that the company grows its business by providing many services to promote the efficiency and acceleration of clinical trials and contributes to maximizing clients' corporate values.
The CMIC Group will continue to expand its CRO business and provide comprehensive support services for pharmaceutical companies' value chain of development, manufacturing, sales, and marketing with CMO and CSO sectors in order to contribute to increasing clients' additional values.