INTERPHEX 2018 was held in New York, USA from April 17th to April 19th 2018 and CMIC Group, the largest CRO in Japan with global footprint for clinical trial management, sample testing, contract pharmaceutical drug development and cGMP manufacturing capabilities, participated in this event.
INTERPHEX is the premier pharmaceutical, biotechnology, and medical device development and manufacturing event where you can "Experience Science through Commercialization". INTERPHEX succeeds in bringing together inspired professionals with key industry leaders to share knowledge and best practices, as well as see the latest cutting-edge technologies needed to cost-effectively develop and manufacture quality products.
During the event, CMIC introduced our service as Pharmaceutical Value Creator and shared CMIC CMO USA Corporation's fully integrated pharmaceutical services for oral dosage products.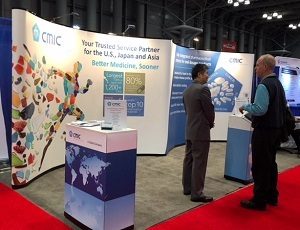 On April 17th, CMIC US experts shared our technologies and industrial experiences for oral solid drug development. Dr. Qian, Associate Director of Technical Services presented "Application of Rotor/GXR Technology for Development of Oral Solid Products" and Mr. Odonoghue, Sr. Director of Operations, participated in a PBOA Panel Discussion on "Small Molecule Drug Development Market Trend, Unmet Needs and the Future."