[Tokyo, Japan, Oct. 16, 2023]
CMIC CMO USA Corporation, a subsidiary of Japan's top contract development and manufacturing organization, CMIC CMO Co., Ltd., and Rutgers, The State University of New Jersey, a renowned institution for research and education, are proud to announce their partnership in advancing the field of Advanced Pharmaceutical Manufacturing.
CMIC CMO, a joint venture between DNP Group and CMIC Group, boasts 18 years of industry experience and a global presence with six sites worldwide, including four in Japan, one in South Korea, and one in the US. CMIC CMO USA and Rutgers have agreed to join forces to establish a Center of Excellence in Advanced Pharmaceutical Manufacturing, co-located at CMIC's 224,000sqf facility in New Jersey.
Takahiro Ueda, CEO of CMIC CMO USA Corporation ambitions, "Rutgers brings expertise in advanced and continuous manufacturing, while our suppliers provide the latest technological advances in equipment. This expertise allows us to integrate state-of-the-art infrastructure for rapid product and continuous process development in both non-GMP and GMP environments, giving CMIC unique capabilities to accelerate manufacturing of investigational and commercial products for the benefit of patients around the world".
Makoto Matsukawa, CEO of CMIC CMO, added, "We are very excited about this partnership. CMIC and Rutgers' shared commitment to innovation and excellence fully aligns with our vision. Together, we can enhance pharmaceutical manufacturing technologies and processes, contributing to the industry's global advancement."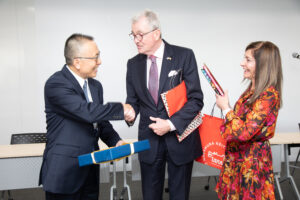 Since 2006, the Rutgers School of Engineering has been at the forefront of pharmaceutical research through the Center for Structured Organic Particulate Systems (C-SOPS). C-SOPS has assembled a cross-disciplinary team of researchers from major universities, working in close collaboration with industry leaders and regulatory authorities to improve pharmaceutical, food, and agricultural product manufacturing methods.
Francine Conway, Chancellor Rutgers–New Brunswick, expressed her enthusiasm for the collaboration, stating, "Rutgers–New Brunswick is the nation's number 15 top public university and a home to interdisciplinary research—where the life sciences, engineering, and other fields come together to solve problems and discover new knowledge. This partnership will yield vast and important benefits for health and wellness."
During the Choose New Jersey Governor-led economic mission to Japan, New Jersey Governor Phil Murphy joined the MOU ceremony between Rutgers and CMIC CMO USA at CMIC headquarters in Tokyo. "Cranbury is already the proud home of CMIC's operations in North America, and with this new partnership, the company's economic footprint in New Jersey will only grow in the years to come and is expected to double the number of jobs at the new Cranbury facility in the future," said Governor Phil Murphy.  "This new partnership will put both New Jersey and Japan at the forefront of unlocking the world-changing innovations of tomorrow."
For media inquiries, please contact: CorporateMarketing@cmic.co.jp
About DNP
Dai Nippon Printing Co., Ltd. was established in 1876, and has grown into one of the world's largest comprehensive printing companies, providing an extensive range of products and services in a wide range of business areas. The medical and healthcare-related business is positioned as a focus business areas leveraging our proprietary Printing & Information (P&I) strengths. We are working to overcome social challenges and create new value to reply to consumer expectations.
Company URL: https://www.global.dnp/
About CMIC Group
CMIC was founded in 1992 as the first contract research organization (CRO) in Japan. To enable pharmaceutical companies to develop better medicine sooner, we expanded our solutions to include contract development and manufacturing (CDMO), site support, and market solutions, supporting global companies to bring highly desired treatments to the Japanese market. CMIC also contributes to the broader healthcare market.  Leveraging our vast experience and expertise in the medical industry, we offer solutions using a new ecosystem of healthcare to support individuals and local governments. We strive to be a Personal Health Value Creator (PHVC) to meet our global customers' needs in the U.S., Japan, and broader Asia.
Company URL: https://en.cmicgroup.com/
About Rutgers University
Rutgers, The State University of New Jersey, is a leading national research university and the state of New Jersey's preeminent, comprehensive public institution of higher education. Established in 1766, the university is the eighth-oldest higher education institution in the United States. More than 67,000 students and 22,000 faculty and staff learn, work, and serve the public at Rutgers University-New Brunswick, Rutgers University-Newark, Rutgers University-Camden, and Rutgers Biomedical and Health Sciences.
University URL: https://www.rutgers.edu/