CSR
Essential Concepts
We at CMIC see our socially beneficial enterprises, such as in the pharmaceutical manufacturing industry/ medical center support and orphan drug supply as contributions to the improvement of our sustainability (an ability to carry on) in and of themselves.  Additionally, we engage in activities for our various stake-holders, as we are aware that any activity based on the CMIC group's Basic CSR Policies increases our sustainability all the more.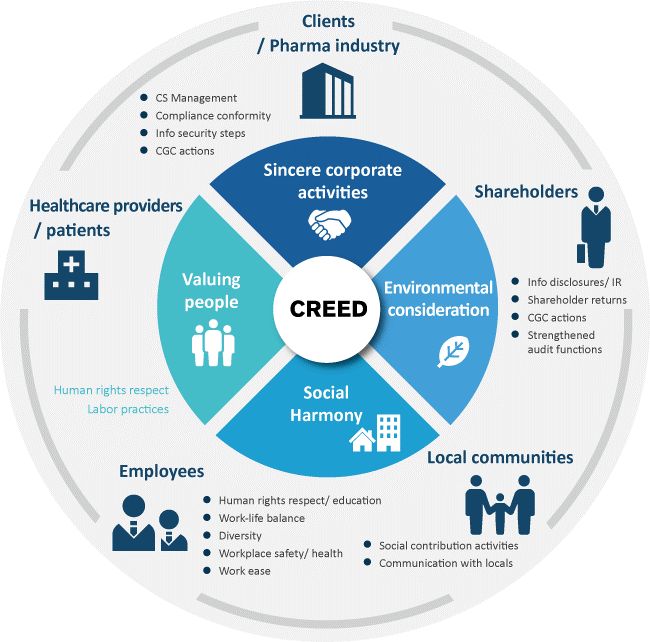 Basic CSR Policies of CMIC Group
The CMIC group formulated its Basic CSR Policies in 2009. Their intent is to be shared/ implemented by all employees, so that we may be a respected member of society, and a trusted enterprise.
Basic CSR Policies of CMIC Group: As a Corporate Citizen
Every employee of CMIC group will actively engage in various activities, always with noble intentions and high ethics, so CMIC group can fulfill its responsibility as a good corporate citizen and win the trust of society.
Basic Principles of CMIC's CSR Activities
Awareness: As a company that contributes to life-saving drug and medical care businesses, CMIC group will engage in CSR activities with a full understanding of the roles and importance of corporate citizen activities in society.
Action: CMIC group will engage in activities based on the company's activity guidelines and with adequate attention to local characteristics and social equality.
Scope: CMIC group will continue its activities with an eye not only on Japan, but also on the rest of the world.
Employee Activities: CMIC group will respect voluntary activities by employees according to guidelines, actively disclose appropriate support activity information, and strive to achieve mutual understanding with stakeholders.
CMIC Group Quality Policy
CMIC Group Quality Policy CMIC Group Top Management has defined the following Quality Policy, to demonstrate commitment to establish and implement an integrated Quality Management System. CMIC Group aims to provide continually high quality services and products to our customers in order to meet their expectations.
Ensure our customers' needs and expectations are continually monitored
Set our Quality Objectives
Establish effective and efficient operating processes
Ensure continual improvement in our processes and procedures
Enhance competence of all employees