Expertise from the Simple to Most Challenging Processes
We deliver a strong expertise in fluid bed technology including wurster processes and granulation, single & bi-layer compression, encapsulation and pan coating operations. Even when working with the most challenging processes, you'll find our people are attentive and responsive to your requirements and deadline commitments. It's your assurance of complete service and satisfaction. A highly qualified and skilled staff, with an average tenure of 17+ years, supports our commercial manufacturing.
We have recently expanded our manufacturing facility to a 20,804 square meters' plant, allowing us to better serve the US market needs.
Oral Solid Processing
Our commercial services specialize exclusively on solid dosage processes, including:
API and excipient purchasing and release
Cleaning validation
Clinical trials materials (CTM) manufacturing
Registration batch manufacturing
Process validation
Commercial manufacturing
In-process and finished product testing
Bulk packaging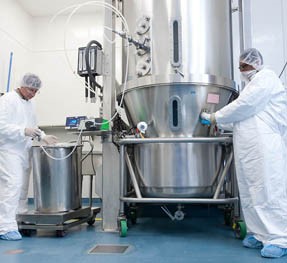 CMIC CMO USA Services
Product Formulation and Process Development
Validation Services
cGMP Manufacturing of Clinical Trial Material
Commercial Product
cGMP Warehousing