Under the new management system,
We aim for further growth by accelerating global business operations.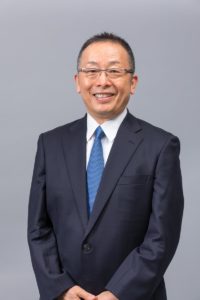 CMIC Holdings Co., Ltd.
Chairman and Chief Executive Officer
Kazuo Nakamura, Ph.D.
The environment surrounding the healthcare and pharmaceutical industry is currently going through significant change and pharmaceutical companies are facing pressure to change their business models and promote innovation.  CMIC Group has implemented "Project Phoenix" since October 2014 to achieve sustainable growth in the healthcare and pharmaceutical industry at this time of change.
CMIC Group has announced personnel and organizational changes for the group's top management, and Keiko Oishi became the President in April 2018.  We will further accelerate global business operating by appointing Ms. Oishi, who has extensive overseas business experience, as COO for full-scale launch of overseas operations.  In addition, "Project Phoenix 3.0" has started aiming at creating new values in the healthcare arena as our take on "Healthcare Revolution".
CMIC will be united under the new management team for further leap, and we would appreciate your continued support in our journey.
I will accelerate globalization and expand the PVC Model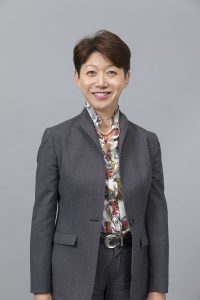 CMIC HOLDINGS Co., Ltd.
President and Chief Operating Officer
Keiko Oishi
I became President and COO as of April 1 2018 and would like extend a few words on this occasion. It has been more than 20 years since I joined CMIC and I have witnessed the growth of the company on a variety of fronts. CMIC started out as a CRO, has proactively pursued overseas opportunities mainly in Asia, and has become a group company consisting of 26 affiliates including 13 overseas subsidiaries.
The healthcare industry, both in Japan and globally, is now going through a significant change. The type of service requests and qualification requirements are changing with the increasing number of global trials, entries from other industries, and more complex study designs. I believe "Further acceleration of globalization" and "The next generation talent development toward globalization" are imminent challenges for the CMIC Group to continue growing in the ever-changing healthcare industry. I will accelerate globalization with my network and experience in Asia including Japan to collaborate with overseas CRO with no foothold in Japan, enhance global trials capabilities, and consider business developments in the United States, the largest pharmaceutical market in the world with many new drug discoveries.
As I stated earlier that the next generation talent development is a key toward globalization, CMIC develops talents under the key words of "Glocal" and "Diversity and Inclusion". Through development of "glocal" talents who can demonstrate global-level performance while rooted locally regardless of location or environment, we will accelerate the group-wide "glocalization". In parallel, we will aim for resilient organization that enables inter-departmental and non-hierarchical discussion by nurturing the corporate culture to respect diverse talents regardless of age, gender, and cultural background.
CMIC has so far grown by understanding customer needs in a timely manner and respond flexibly to the needs. CMIC's new business model has evolved from "Service" provider to "Solution" provider, and to the business that provides "Value" through PVC(Pharmaceutical Value Creator and IPM(Innovative Pharma Model). We will continue to approach our customers to meet their potential needs.
We would appreciate your continued support as CMIC Group strives to achieve further growth and improve our corporate values.
April, 2018